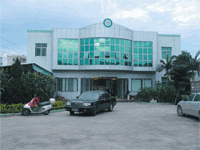 广东省汕头市宜康食品实业有限公司成立于1989年,座落在充满创业精神和勇于打拼而闻名世界的潮汕地区,专业开发、生产"宜康"品牌的蜜饯系列食品,在集中了全国凉果蜜饯生产过半的潮汕地区以产品创新、质量过硬、口感独特而拥有"宜康之果"的美誉。
宜康食品公司秉承"自然好味道,生活新感觉"的经营理念,致力于为消费大众提供优质的系列休闲食品,打造出中国"宜康之果"的优秀品牌。宜康食品实业公司将与国内外经销商精诚合作,互惠互利,战略结盟,共创休闲食品市场的"宜康之果"。
Guangdong Shantou Healthfit Food Industry Co.,Ltd. was founded in
1989, located in Chaoshan area, a place where the people are bold to strive. The company is engaged in developing, producing "Yikang" brand confect series food, with good reputaion in Chaoshan area where is gathered more than a half of confect manutactur ers in whole country with its features of innovative products, good quality and special taste. By following up the operation philosophy of" Nature is the good taste and live with new feel",the company is devoted to providing best quality series leisure foodstuff for consumers,and then build the excellent brand of "Fruit of Yikang" in China. Through sincere cooperation, mutual benefit and strategic union with all distributors at home and abroad, we are dedicated to the "Fruit of Yikang" in the leisure food market.